On July 14th french people celebrated one of their greatest holidays - the Bastille Day. I happily joined them in doing so by attending the "
la Fête Nationale Française" party organized by my friend (who is french and lives in Kyiv) that took place at the Mai Tai lounge bar. a lot of people decide to show up, that made the place pretty crowded, plus there was a karaoke contest (with frech songs naturally), so it definitely felt like a huge holiday)) after a while, we decided to breathe some fresh air and move to a quieter place to be able to chat. the decision was made to go to BEEF, which was new for me and now is definitely one of my favourite places in Kyiv. though the restaurant is meat and wine, I didn't want any, instead I tasted a
très délicieux
pineapple sorbet that I recommend to everyone!
14-го июля французкий народ отпраздновал один из основных национальных праздников - День взятия Бастилии. я с радостью присоединилась к празднованию, отправившись на вечеринку
"
la Fête Nationale Française", организованную моим приятелем (он француз живущий в Киеве), которая прошла в лаунж-баре Mai Tai. заведение переполненное гостями, непрекращаемая суматоха и конкурс караоке (с французкими песнями конечно же) создавали атмосферу действительно значимого праздника. спустя некоторое время, мы все же решили выйти на свежий воздух и подыскать более спокойное место для беседы. выбор пал на BEEF, который с первой же секунды пришелся мне уж очень по душе. не смотря на то, что это ресторан типа meat and wine (мясо и вино), лакомилась я невероятно вкусным ананасовым сорбетом, так что всем советую,
très délicieux
!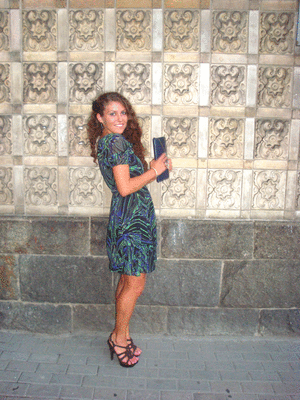 Butterfly by Matthew Williamson dress
My mom's retro clutch
Cubus earrings
SIX, Parfois and vintage rings
Vintage bracelet